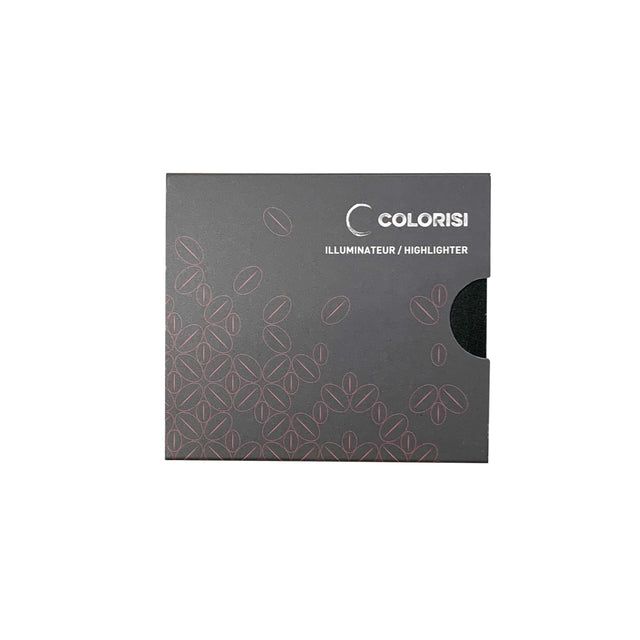 by Colorisi
Colorisi Illuminator 01 - Full Moon
Colorisi illuminator is women's ally for an immediate healthy glow.
Colorisi's 01 Soleil Pétillant illuminator is shiny with a golden finish, which captures the light and gives an immediate healthy glow.
The color of the Colorisi illuminator is chosen according to the desired effect on the skin.
It will be used mainly on the face as a tint product, or on the eyelids for a sparkling look.
The highlighter can also be applied to the lip contour for a charming smile.
USAGE TIPS :
The Colorisi illuminator is applied to the cheekbones, temples, or even to the décolleté using the illuminator brush.
For application to the eyes, use an eyeshadow brush.  precise, and apply the highlighter to the underside of the brow bone, the corner of the eyes, or to the center of the mobile eyelid, as a last touch after eye shadow.
Finally, for application on the lip contour, mainly on the center of the lips, use a lip brush for maximum precision.
Do not hesitate to combine the shades of the 01 Soleil Pétillant illuminator with the 02 Lune Rose.


USE OF PALLETS:
The blushes are used in rechargeable cases thanks to their ingenious magnetic system. Then all you have to do is slide a small pin into the notches to reshape your palette or replace your eye shadow.
M boxes can contain:
- 1 illuminator
L boxes may contain:
- 2 illuminators
Or
- 2 eyeshadows combined with 1 blush or 1 highlighter or 1 compact powder
ASSETS :
COFFEE
Plant origin. Coffee owes its main properties to its concentration of chlorogenic acid. This is a family of esters recognized as antioxidants. Coffee supports the formation of collagen, elastin and GAG in the extracellular matrix, it also improves the physiological balance of the skin.
CORN STARCH
Plant origin. Powder obtained from corn. Corn starch promotes the adhesion of powders to the skin and leaves a matte finish on the skin by absorbing moisture. The skin is soft and velvety.
BABASSU BUTTER
Plant origin. This babassu butter is obtained from the seeds of the Babassu palm, native to South America. It penetrates quickly into the epidermis, facilitates the application of cosmetic products and leaves a thin protective film on the skin without feeling greasy in order to protect against external aggressions.
APRICOT OIL AND WAX
Plant origin. Extracted from apricot kernels, apricot oil and wax have emollient, nourishing and softening properties. The oil is rich in essential fatty acids and vitamins A and E which gives it anti-aging properties, brightens the complexion and restores tone to the skin. The wax, for its part, will have firming, moisturizing and emollient properties.