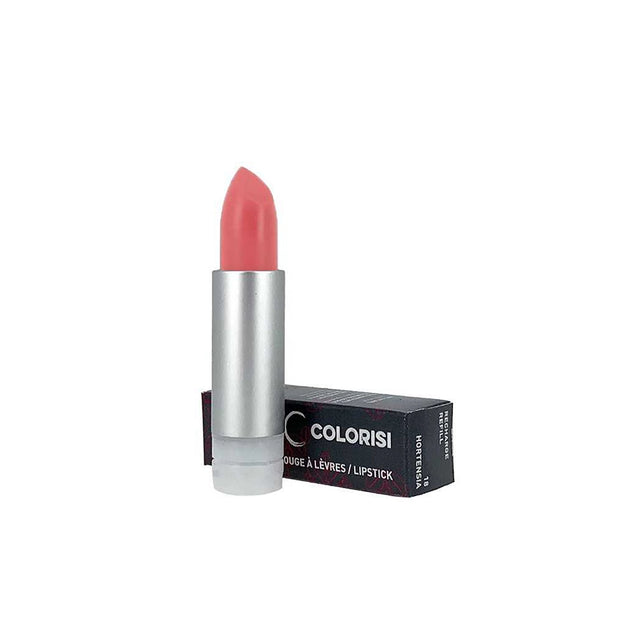 by Colorisi
Colorisi Lipstick 18 - Hortensia REFILL
Lipstick enhances women's lips and finishes makeup. Colorisi pigment-rich lipsticks come in shades of red, from bright red to coral, pink and pinkish beige.
The Colorisi 18 Hortensia des Iles lipstick is covering with a matte finish.
The Colorisi range offers mainly covering lipsticks, in matte or pearly colors, with excellent long-lasting hold and some will be more transparent for easy makeup.
The active ingredients in Colorisi lipsticks such as Candelilla wax give the lipsticks a creamy and fluid appearance while protecting the lips.
USING ADVICE :
After applying a moisturizing balm to the lips, possibly outline the lips with a pencil in the color of the lipstick to be applied.
Apply with a brush the lipstick starting from the center, then on the sides of the lips. Pinch lips to even out color.
Finally, in order to accentuate the color, apply the grape of the lipstick directly to the mouth.
However, it is possible to apply the lipstick directly to the lips with the grape for greater simplicity.
ASSETS :
COFFEE
Plant origin. Coffee owes its main properties to its concentration of chlorogenic acid. This is a family of esters recognized as antioxidants. Coffee supports the formation of collagen, elastin and GAG in the extracellular matrix, it also improves the physiological balance of the skin.
CANDELILLA WAX
Plant origin. The Candelilla plant grows in the desert areas of northern Mexico and the wax is extracted from the leaves of this shrub. Candelilla wax is hard and brittle, which gives strength to makeup products such as lipsticks and makes them more resistant to heat. It also protects the skin and replenishes it.
ABYSSINIAN OIL / CRAMBE
Plant origin. This rare oil lays like a caress on the skin and provides a light protective veil, like a second skin. This oil also helps regulate skin hydration and helps maintain the integrity of the skin barrier, thus protecting against environmental factors such as pollution and UV rays. It reduces the dryness of the skin and regulates the desquamation of the stratum corneum. It also promotes cell renewal in the basal layer by stimulating the regeneration process of the skin. Its main cosmetic properties are to improve the color intensity and dispersion of the product, to give a long-lasting effect and to increase the cohesion and elasticity of the skin and mainly on the lips.
APRICOT OIL AND WAX
Plant origin. Extracted from apricot kernels, apricot oil and wax have emollient, nourishing and softening properties. The oil is rich in essential fatty acids and vitamins A and E which gives it anti-aging properties, brightens the complexion and restores tone to the skin. The wax, for its part, will have firming, moisturizing and emollient properties.