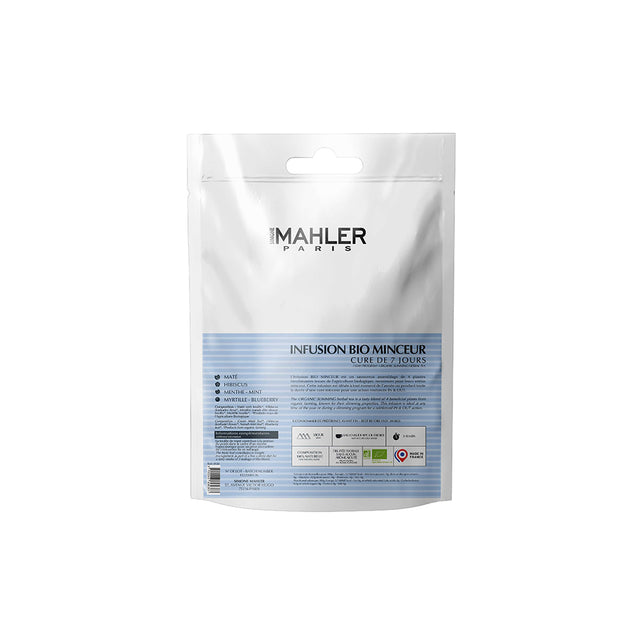 This infusion will complete the action of slimming products and treatments to better eliminate superfluous fat by natural means.
An infusion with organic plants for a detoxifying effect
Made up of a mixture of 4 plants from organic farming known for their slimming properties
• Organic Mate (leaf): Recognized for its appetite suppressant effect, its diuretic action and its detox effect.
• ORGANIC Hibiscus (flower): Recognized for its slimming, draining and digestive properties
• Organic Nanah mint (leaf): Recognized for its digestive properties and to "reduce cravings"
• ORGANIC blueberry (leaf): Recognized for its ability to regulate blood sugar levels and improve
traffic
"IN and OUT" effect to help achieve a slimmer silhouette day by day
• Associated with a balanced, varied diet and regular physical activity, this ORGANIC SLIMMING INFUSION can stimulate the body to eliminate toxins and superfluous fats, and thus help in the objective of weight loss: this is the IN effect
• Regular follow-up of slimming treatments in institute associated with the daily application of slimming products will contribute to the loss of centimeters: this is the OUT effect
Recommendations
• Its low caffeine content means it can be enjoyed throughout the day, hot or cold depending on the desired objectives and desires
• For a slimming objective, even if a cold tasting is possible, a hot tasting is recommended because drinking hot water regularly helps the body to eliminate its toxins.

Preparation: 1 infusette for 250ml of water, infusion time 3 to 10min in water at 90°C
• It can be prepared in advance (the day before) with 3 infusettes in 1.5l of water.
• Recommended quantity in cure: 3 infusettes per day. When the cure is over, take one infusette per day in maintenance.
• Its tangy taste of hibiscus and sweet mint makes this infusion a pleasant drink to drink cold for a more thirst-quenching effect.