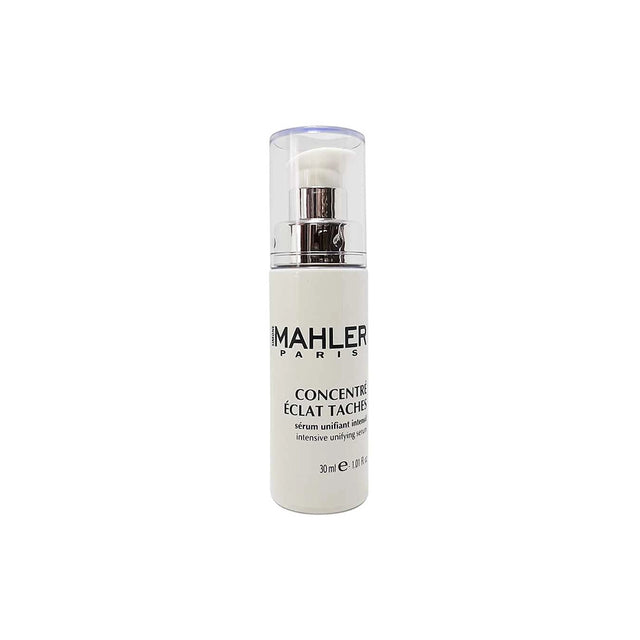 by Simone MAHLER
Simone Mahler Dark Spot Radiance Concentrate F30ml
Reduce, lighten spots and pigmentary irregularities for a more even and luminous complexion.
Reduce and prevent pigment spots
• Decreases melanin synthesis and limits its storage

• Promote exfoliation

• The size of pigment spots decreases

• The intensity of the color of the pigment spots fades

• The complexion is more even and brighter
Vitamin C and its benefits on spots and regeneration


• Very fine texture concentrated in selected active ingredients (Vitamin C derivative – Vitamin PP – Provitamin B5 – urea derivative) which act in synergy to reduce the appearance of pigment spots, prevent the appearance of pigment irregularities, even out the complexion and bring radiance and luminosity.

• This vitamin C derivative is an inhibitor of tyrosinase (key enzyme in melanogenesis responsible for

pigmentation)

• Vitamin C plays an essential role in the synthesis of collagen and thus limits the loss of firmness in addition to possessing antioxidant properties.
The recommendations
• Recommended daily, morning and/or evening

• On the whole face or locally on hyper-pigmented areas

• Apply in light strokes after cleansing your face with the white radiance cleansing gel followed by the White Lotion. Then follow with Illumin perfect cream for maximum results.

• In the morning, finish with the application of Image Skincare Prévention SUN PROTECTOR SPF50.

• Can also be applied on the hands, under the HAND CREAM, in prevention / treatment of pigment spots