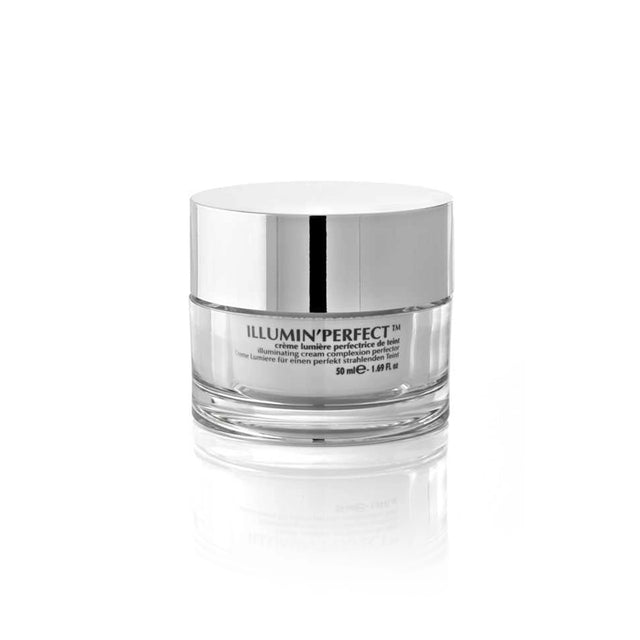 by Simone MAHLER
Simone Mahler Illumin perfect Cream Refillable Pot 50ml
Bring radiance and luminosity while reducing imperfections for sublimated skin every day.
For perfect, radiant skin at any age
• Illumin Perfect Cream has a global action, to recreate perfect skin at any age, whatever the skin type.

• Its protective, moisturizing and exfoliating active ingredients act in synergy to strengthen the skin's youthfulness.

• Its fresh, melting, slightly iridescent texture visibly evens out the complexion for a velvety finish and an immediate glowing result.
A complexion perfecting cream for an impeccable finish
• Lupine extract has the ability not only to increase the synthesis of collagen I (main collagen whose quantity decreases with age), but also to encourage the production of good quality collagen which gives the dermis its elastic and firmness properties.

• For more toned and elastic skin.

• Also includes an exfoliating agent for brighter skin and a smoothing effect.
Respect for the environment, ecological
• Simone MAHLER is committed to the environment, in a process of reducing waste with a pot that can be used sustainably combined with recyclable eco-refills.

• When you buy the eco-refill you save 15% of the initial price (jar)
The recommendations
• Recommended daily, morning and/or evening on the entire face

•Apply in light strokes after cleansing your face with the white radiance cleansing gel followed by the White Lotion. Then, follow with the appropriate serum followed by the Illumin Perfect cream for maximum results.

• For mature skin, use in addition a serum from the Anti-Aging Range.