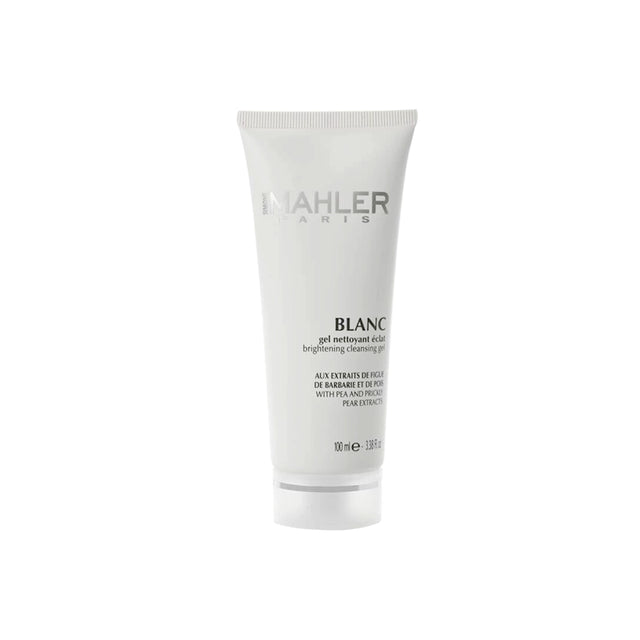 by Simone MAHLER
Simone Mahler White Radiance Cleansing Gel 100ml
Slightly foaming fluid gel with a very fresh floral fragrance, it gently cleanses the skin, without any feeling of tightness, slightly exfoliating formula which makes it the ideal cleanser for hyper-pigmented skin, it leaves the skin clean, fresh and radiant
A perfect exfoliating cleanser for skin with dark spots
• Slightly foaming fluid gel with a floral and very fresh scent

• Gently cleanses the skin without any feeling of tightness

• Slightly exfoliating formula which makes it the ideal cleanser for hyper-pigmented skin.

• Leaves the skin fresh, clean and radiant
A cleanser tested under dermatological control
• Prickly pear extract stimulates the skin's natural exfoliation capabilities. The complexion is clearer and more luminous without taking into account the incomparable softness of the skin.

• Pea extract slows down the synthesis of melanin, which gradually leads to the lightening of pigment spots.
A daily exfoliating cleanser
• 2 in 1! Thanks to its formula of exfoliating active ingredients, it is the daily cleanser that also offers an exfoliating action

• Used regularly and every day, it can temporarily replace the weekly exfoliation of sensitive skin or of a client who does not take the time to exfoliate.
The recommendations
• BLANC NETTOYANT GEL emulsifies very easily using soft-bristled brushes or Simone MAHLER brushes.

• Carry out small circular movements on the whole of the face and create a very fine foam which will wrap the impurities more effectively and more precisely than the manual movements.

• The effective duo with Blanc Lotion! Radiance and luminosity guaranteed with simple gestures!